We live in a time of rapid digital development on all fronts. In some industries, this has resulted in an urgent need for new expertise, and now also in infrastructure. After 14 years as a qualified electrician, Kristine Jensen Wendt decided to pursue a further education programme at a professional education institution, Oslo Fagskole, which would give her an edge in the workplace. As she has worked with railways for a long time, she chose us at RailCOMPLETE as her partner for one of her school assignments.
Close co-operation
"Working closely with the business community in my industry is important and useful. That's how we learn the most about what's going on out there. Fortunately, I got a tip from Bane NOR to talk to Claus Feyling at RailCOMPLETE, and that was simply worth its weight in gold. Not only did I get to work with a very good player in the market – I got a private tutor in the bargain!"
Kristin says that she not only learned about modelling in her collaboration with Claus, but also about requirements and rules. "A lot of what he knows is engineering food in railway design, so that was an exciting bonus to bring into both the learning and the assignment."
A school for the industry
One of the most important aspects of the structure of the school, Oslo Fagskole, is to learn more and, not least, to experience more of what you will actually encounter out there. "When we started this programme in 2008, there was full focus on BIM construction for buildings and small facilities," says Steffen Øpstad Hamborg, BIM subject teacher at Oslo Fagskole. "Over time, industry has given clear signals of the need for other specialisations, and it's clear that it's important for us to look at this." Steffen has a long history with the school and talks about a development and demand that is only growing. "Strictly speaking, you could say that the programme first focused mostly on the building itself through BIM Construction, then everything that was inside it through BIM Installation – and now we have focused on the outside through BIM Infrastructure. There are ever-increasing demands for expertise from clients, and we want the students to be able to help respond to this expertise."
Steffen and the others at Oslo Fagskole are trying to meet this demand. "The school will always work to meet the needs of business and industry, so we do our utmost to introduce new solutions and software that students will acquire during the school year.
We focus on teaching students to deliver good quality, high accuracy and control over data, regardless of their future role in the labour market."
RailCOMPLETE is a solution that can contribute to this in teaching and is highly relevant to the business world. "The fact that software suppliers go to great lengths to offer free student versions and training for their BIM software is very positive for both us and the students," says Steffen.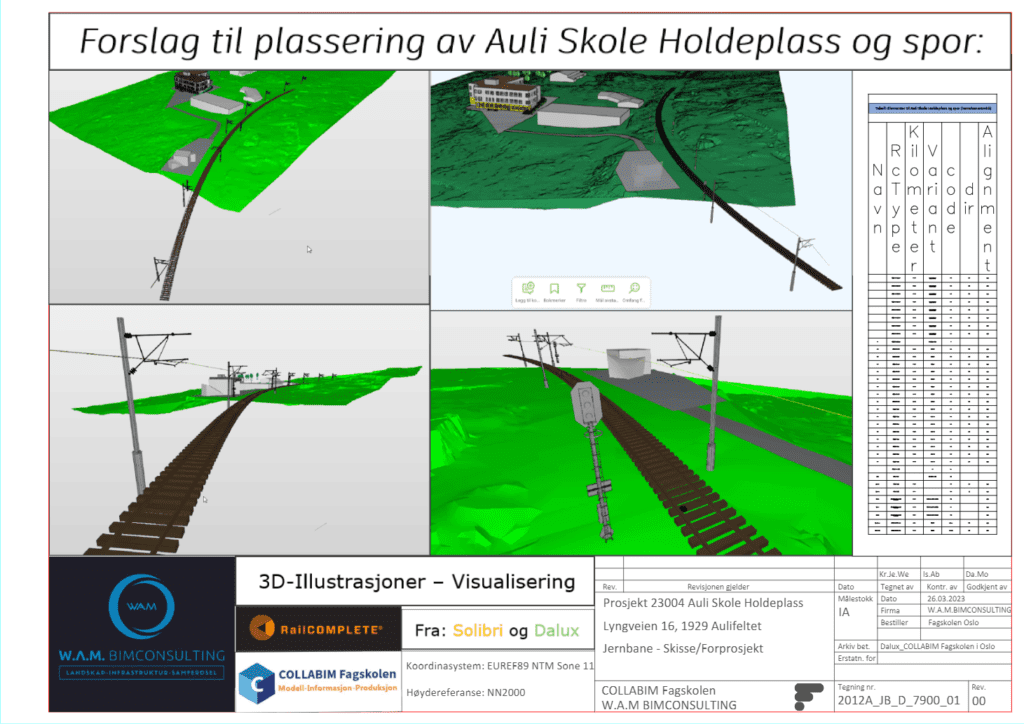 Licensed software as part of the programme
Kristine and the other students recognise the importance of being up to date on the software front. "I would recommend that you learn about a lot of programmes to be prepared for what you encounter out there," says Kristine. "There are so many plug-ins and different ways of doing things, so getting a broad experience of many programmes is probably a key to being able to adapt to the working life we'll be entering."
Claus Feyling is the general manager of RailCOMPLETE and is clear that the collaboration with Oslo Fagskole and Kristine Wendt has been important for the company behind the software, Railcomplete AS. "We want to get in touch with schools and students so that they are familiar with our software, can use it and request it when they enter the professional market. When different roles and disciplines within railway BIM use RailCOMPLETE, the work will have a much better coordination and workflow, which in turn provides a more efficient working day."
Railcomplete AS wants to reach out beyond the Oslo Fagskole "That's why we now offer affordable student licences to schools all over the country – send us an email if this sounds interesting." says Claus Feyling.
---
RailCOMPLETE has been developed since 2014 in collaboration with leading Norwegian consulting companies and is now a complete toolbox for the needs of the electrical disciplines within BIM.
See the company vision and product video.